Nagle College has been providing education for girls in the Blacktown area since 1965 and today has a vibrant multi-cultural community.
Welcome to and Acknowledgment of Country
Nagle College recognises the rich Indigenous history of our area. We recognise that a Welcome to Country or an Acknowledgement of Country acknowledges the traditional custodians of the land and shows respect for Aboriginal and Torres Strait Islander people as Australia's First Peoples.
Nagle College recognises that a Welcome to Country is where a traditional Aboriginal or Torres Strait Islander custodian or Elder welcomes people to their land. We understand that an Acknowledgement of Country may be performed by anyone.
Our Acknowledgement of Country acknowledges the traditional custodians of the land around our school and shows respect for Aboriginal and Torres Strait Islander people as Australia's First Peoples. The following is read regularly at assemblies, special events and at all meetings at Nagle College.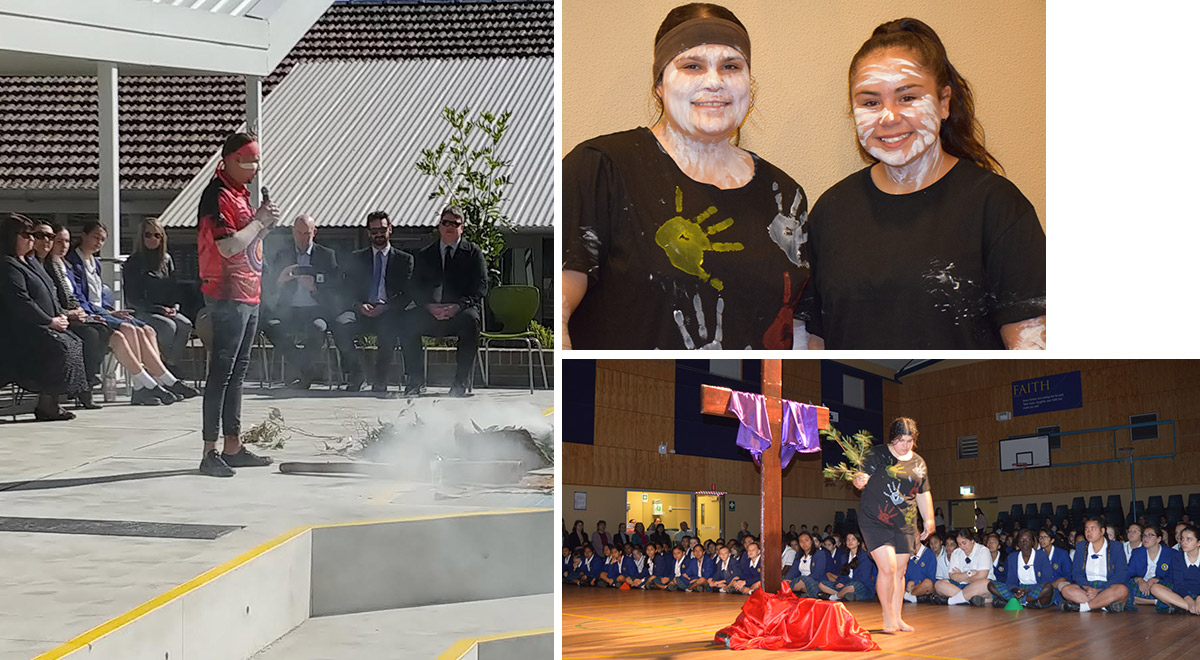 Nagle College would like to acknowledge the Darug people who are the Traditional Custodians of this Land, here in Western Sydney; people who have loved and cared for this Land for thousands of years. We would also like to pay respect to the Elders of the Darug Nation, both past, present, and emerging.
---
Our History
The Presentation Sisters established the college and named it after their founder, Nano Nagle.
The school opened in 1965 under the leadership of Sr Mary Alphonsus Thearle and was comprised of two classes each of Years 7 to 9, and one class of Year 10 students. The school was surrounded by bushland, and the grounds and buildings had to be expanded to cope with the rapid growth in the area. In the ensuing years, the school added necessary buildings and enlarged recreation areas, as it continued to grow in numbers.
In 1993, the Presentation Sisters withdrew from Nagle and the first lay Principal was employed. A major rebuilding program commenced at this time, and in 1999 Nagle enrolled its first Year 11 cohort.
The philosophy of the Presentation Sisters, 'In Deed Not Word,' is still the cornerstone of all that is taught and practised at Nagle, and the College continues to maintain a close relationship with the Sisters. It is a member of the Nagle Education Alliance of Australia NEAA.
Today's Nagle College is a modern, well-equipped secondary school for girls, serving a multicultural community. Set in tranquil grounds, providing space and nature for all girls to enjoy, the college enjoys an enviable reputation in the area for achieving outstanding HSC results and for its role in supporting the wider Blacktown community.
Life-long learning begins here
---
Nagle Alumni
The Nagle Ex-Students Network aims to connect previous and current Nagle College Girls
Nagle College is proud of all its past students who have gone on to make positive contributions to their communities.
Whether you stay in touch with us to connect with fellow graduates, or attend networking opportunities, the Nagle Ex-Students Network is your lifelong link to Nagle College.
If you wish to become an alumni member of the Nagle Ex-Students Network, contact the College today on 02 8887 4500, or email your details to naglealumni@parra.catholic.edu.au. Please state your name (and maiden name if applicable), as well the years that you attended Nagle College.
You can also complete this Nagle Alumni Contact Information Form.
---
Enrol Today
Visit our school and experience what makes Nagle College such a special place.
We welcome your daughter's enrolment at Nagle College and look forward to getting you started on the enrolment process, or just answering any questions you may still have.
What We Offer
Take a 360 Virtual Tour
How to Enrol
Contact Us