Nagle College is a BYOD (Bring Your Own Device) School.
Technology is everywhere. It is entwined in almost every part of our daily lives. It affects how we live, work and most importantly how we learn. At Nagle we use Canvas, a digital learning management system, which works well with our BYOD program. Students are also able to access printers across the College from their own device.
We encourage parents to purchase their child their own device to help enhance their learning experience at Nagle College. Please ensure that the device used meets the minimum requirements to be connected to the school's network.
Nagle College is a BYOD (Bring Your Own Device) School.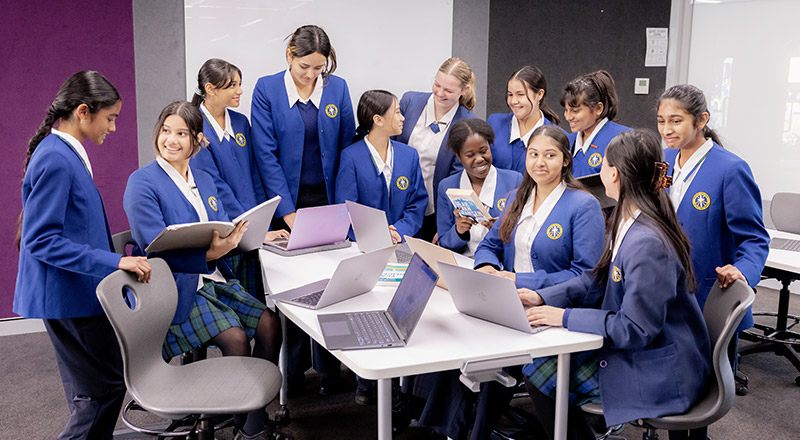 Information for Parents
Device Requirements
Purchasing Information
Support
What device does the College recommend?
While the College recognises that there are many other options (sometimes cheaper), the device that best suits student requirements is the Apple 13" MacBook Air.
What are the minimum requirements for devices?
Our College follows the CSPD BYOD guidelines to ensure all student devices operate effectively for student needs. Please see the printable checklist for minimum requirements for all devices.
Which devices will not be supported at the College?
The following devices are not supported on the CSPD network and are not suitable for use at Nagle College:
Android devices
Mobile phones (student phones are not permitted to connect to the network)
iPad Minis (these do not meet minimum screen size requirements)
Will my daughter be able to access support for her device at school?
We will ensure your daughter is set up on the College network when she joins our College, and is able to use her device effectively for all class tasks. Our ICT Support team are based in the College Library and students are able to seek their assistance at lunchtime for any technical support they may need.
Have a question about student learning devices?
For any enquiries or further information, please contact the College on 8887 4500 or by using our contact form. We will be happy to assist you.
Send us a message