English Advanced Excursion to the Riverside Theatre
23 May 2017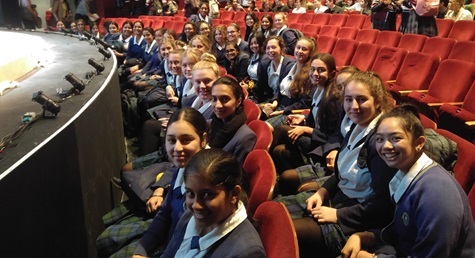 As part of our Area of Study on Discovery, Year 12 English Advanced were granted the opportunity on Thursday the 4th of May 2017 to attend a thought-provoking and exhilarating rendition of Shakespeare's 'The Tempest' and symposium at Parramatta Riverside Theatre.
As Nagle's English faculty consistently contend, to truly appreciate Shakespearean literature one must view it in action, the way Shakespeare had intended.
So, we journeyed to Parramatta to "truly view" the play. Shuffling unknowingly into the amphitheatre, we were struck immediately by the mystical atmosphere of "the island".
Dust and sediment danced in the air as the theatre darkened into a void of caliginosity, sucking us all into the preternatural, ominous world of Shakespeare's creation.
Characters were no longer characters, they were real: much more defined, relatable, emotive, and from an audience's perspective. They toyed with our emotions. Our hearts sunk with Caliban's mistreatment, and beat heavy against our chests as Ariel braced us with her ominousness.
For this reason, this rendition allowed for themes, characterisation, emotion and dialogue to become blatant, comprehensible and entertaining, unfolding in ways we had not before considered during our studies.
It truly captivated us from beginning to end and was the talk of the entire cohort the whole bus ride home (every teacher's dream, right?).
The Year 12 cohort would like to thank all teachers and individuals involved in making this excursion happen.
Angela Azar, Year 12