Nagle College student acknowledged for excellence
30 Sep 2014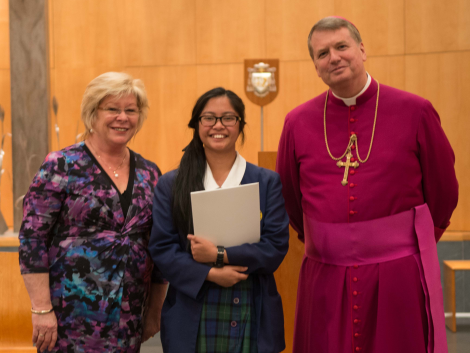 Edinelle Rabi with Sue Walsh and Bishop Anthony Fisher OP
Edinelle Rabi from Nagle College recently received the annual Bishop of Parramatta Award for Student Excellence, which recognise the religious and academic achievement of senior secondary students across the Diocese of Parramatta.
Edinelle is a stellar young woman who has made a significant contribution to our community as Liturgy Leader over her years at Nagle College.
Edinelle lives her faith through her witness to the Gospels; she leads by example in prayer and good works. Edinelle is an active member of her parish, working to make a difference for the youth of Blacktown.
Edinelle is a group leader of the school's YCS group and has attended the State-wide camp. This year she represented the College at the Palm Sunday procession. Edinelle has given great focus to her studies, ensuring that she is performing in the top ten of all her HSC courses.
Edinelle is a person of faith, an outstanding student and a strong leader.