Nagle College's sister program a big hit
06 Mar 2014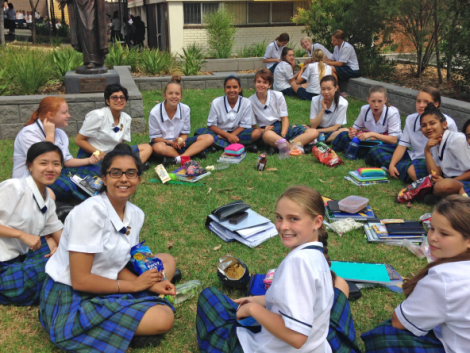 Students came together with their 'sisters' to share a picnic together
Students from Nagle College, Blacktown South enjoyed a picnic on the lawn for Year 12 'Big Sisters' to get to know their Year 7 'Little Sisters' as part of the unique peer support program that has been in place for eight years at the school.
Principal Delma Horan says it is invaluable in providing Year 7 students with a friendly, supportive and understanding mentor in their first year of secondary school.
'The transition from Year 6 to Year 7 is a significant step ,' said Delma. 'There is something very special about the girls who are beginning their journey in high school being peered by those who are at the end of their schooling as they have all of those experiences to draw on.'
'We see an overwhelming level of generosity and care from our Year 12 students as they share their experiences and contribute to building a nurturing school environment,' she said.
Year 12 student Mounisha Mondeddu remembers the days she was a "little sister" meeting her "big sister" for the first time.
'She was the first Nagle girl I met and basically explained where everything was in the school,' said Mounisha. 'I don't have an actual sister so it's nice to explain my experience through high school and give them tips to get through. The most valuable advice is just to have fun with everything.'