Nagle WAVE Meetings
23 May 2017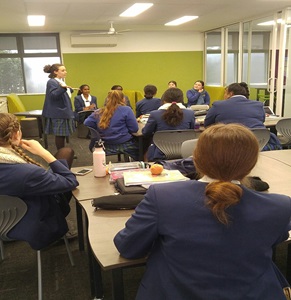 The Nagle WAVE (Women Advocating for Value and Empowerment) has been meeting regularly to discuss women's issues.
Most recently, Derica Elogious and Lauren Redondi of Year 11 organised a Trivia day, where our students worked in teams to answer questions about women's rights and history, and developed a lesson on the representation of gender stereotypes.
Our students have amazing initiative, and have been using lunchtime to share their ideas and discuss important issues. At our meeting on gender stereotypes, the girls worked to develop dramatic performances that represented the stereotypes we often see in the media, before discussing how to change their performance to subvert them.
Nagle girls can do anything, and we are hoping that through these workshops and meetings, our students will learn that there is no barrier presented by gender. In line with our College formation goal, we are seeking to enable our young women to see every person that they encounter, male or female, as being made in God's image.
You can join the conversation and follow our efforts by searching for #nagleWAVE on Twitter.