Presentation Women Shine
25 May 2017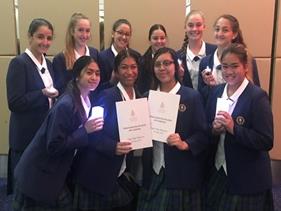 On May 4th, we as young Presentation women from Year 10, travelled to Brighton Le Sands Novotel to represent our College at the Nagle Education Alliance of Australia Conference (NEAA).
The NEAA believes that the Presentation charism has lasting value. The continued relevance of the Nano Nagle story is an inspiration for Presentation People to make a difference in their world and in the way we live the Gospel.
This conference provided us with the opportunity to participate in the opening prayer that acknowledged the diverse groups of society and social justice issues. Throughout the conference, we were able to explore the theme of 'One Step Beyond' through open discussions.
We were fortunate enough to hear a speech from Tim Costello, Chief Advocate of World Vision. His talk focused on resilience, compassion and faith towards the marginalised and reflecting on our calling as Presentation people within society.
We were deeply moved and inspired through his anecdotes and experiences, as we could easily reflect back on our own experiences.
Briana Yu, Alysse Desira, Marjorie Laquian, Lauren Borg, Jessica Relunia, Geraldine Vella, Elyssa Antoun, Jolie Ward, Sophie Pollard, Euniece Miranda