Students top the state in HSC courses
09 Feb 2015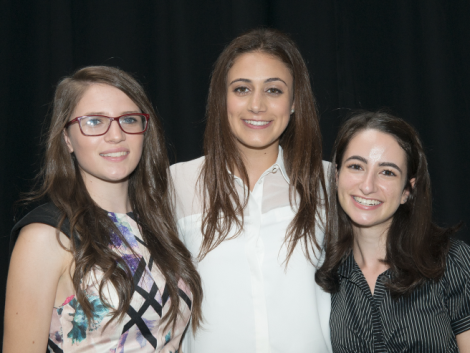 Katie Abela (Gilroy Catholic College), Isabella Khoudair (Our Lady of Mercy College) and Jessica Hasbany (Cerdon College)
The HSC results has seen three students from our Catholic schools achieve first in the state for their subjects.
Jessica Hasbany, Katie Abela and Sonia Szarycz were recognised at an awards ceremony on Tuesday 16 December for achieving the highest HSC result in a course studied across the state. The awards were presented by the NSW Minister for Education, Adrian Piccoli.
Minister Piccoli said the First in Course Awards acknowledge the highest achieving student in each HSC course, where the result is in the highest possible band for that course.
'This year 105 students received First in Course Awards,' said Minister Piccoli. 'Over 76,000 students sat at least one HSC subject this year, so to come first is an incredible achievement that these students should be very proud of.'
Executive Director of Schools, Greg Whitby commended students on their outstanding efforts.
'I congratulate Katie, Jessica and Sonia and their dedicated teachers who supported them in attaining highest score in NSW for their subject area,' said Greg. 'First in course is an incredible achievement and they can be very proud of their efforts.'
Jessica Hasbany from Cerdon College, Merrylands, achieved First in Course for Business Services Examination. Cerdon's Principal, Patricia Baker said it was not only a wonderful result for Jessica, but for all involved in the Business Services course.
'We acknowledge the outstanding achievement of Jessica Hasbany who came first in the state in 2 Unit Business Services. This is an outstanding result from a hardworking student,' said Patricia. 'In Business Services, Cerdon College students received three of the 26 Band 6 results given. This is a credit not only to the students, but to the professionalism of the Business Services teachers.'
Katie Abela from Gilroy Catholic College, Castle Hill topped the state in Mathematics General 2. Gilroy's principal, Cheryl Mereweather said Katie's achievement is a testament to her and her teachers.
'Katie is very deserving of this incredible result,' said Cheryl. 'She has worked exceptionally hard throughout the year across all her subjects and was particularly dedicated in her study of Mathematics General 2 working in partnership with and receiving great support from her teachers.'
Katie said she was thrilled to learn of her achievement, and even more excited to achieve an ATAR of 96.85.
'I'm very grateful to my maths teacher, Melissa McDonough who was very supportive and helped me to do so well,' said Katie. 'All the teachers at Gilroy have a genuine and sincere interest in all the students – academically and personally – and I believe that this enables us all to realise what we're capable of.'
St Patrick's Marist College, Dundas student, Sonia Szarycz achieved First in Course for her exam in Polish HSC Continuers which she studied at the Saturday School of Community Languages at Chatswood High School. St Patrick's Principal, Angela Hay said the school are very proud of Sonia's achievement.
'Sonia has studied Polish throughout her schooling and has always achieved outstanding results in this area,' Angela said. 'She has consistently achieved high results across all subject areas and is an outstanding role model for our students.'
Congratulations to our students on their outstanding achievements.