CAPTIVATE drama students get in touch with their funny side
09 Nov 2018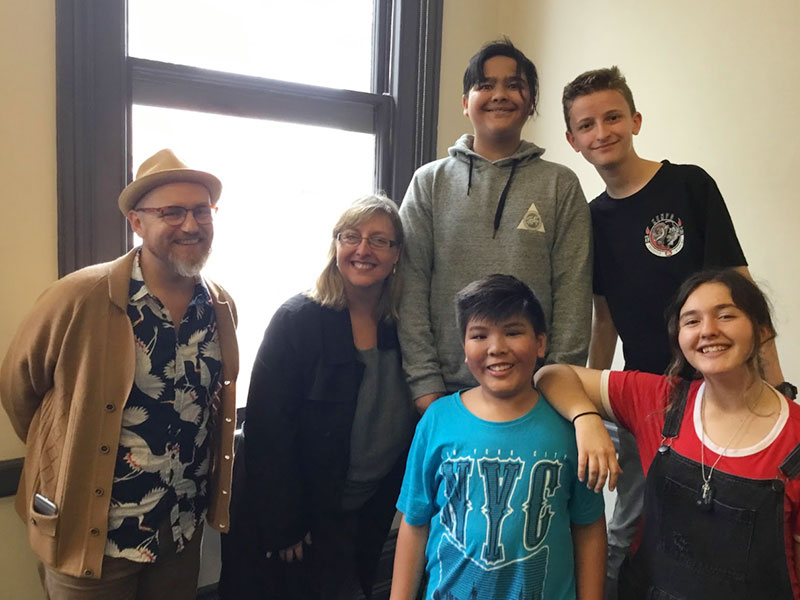 Tutor Drew Fairley with Lucinda Armour (Captivate Drama Team) and Branndon Graham, Daniel Zarb, Ethan Nguyen and Ioanna Hatziendreou.
During the October holidays four Captivate Drama Hub and Ensemble students took the opportunity to participate in the Australian Theatre for Young People's Comedy Masterclass program, which resulted in them showing off their funny side to family and friends.
Students Ethan Nguyen, Daniel Zarb and Branndon Graham from St Paul's Catholic College, Greystanes, and Ioanna Hatziendreou of Nagle College, Blacktown participated in the program and all agreed it was a great learning experience and they made some good friends.
"It was a great learning experience for improvisation, performing and comedy. I met a ton of friends and helped improve myself,'' Ethan said.
Branndon said he will continue to use the skills he gained from doing the Masterclass program.
"The whole workshop was something everyone should have a chance to experience. The people I met there were great and will continue to be some of my best friends,'' Branndon said.
Daniel agreed and acknowledged the tutors, Drew Fairly and Marvin Adler for being helpful and for teaching them the skills used in comedy and what makes things funny. Ioanna said she thought it was a great experience for people who are interested and determined to improve their skill set in drama.
Since 2016 Captivate Drama have forged a collaboration with the Australian Theatre for Young People (ATYP) - the premier youth theatre company of NSW. Past members of the ATYP include Nicole Kidman, Hugo Weaving, Rose Byrne, Toni Collette, Joel Edgerton and Baz Luhrmann.
Over 30 Captivate Drama Hub and Ensemble students have been the grateful recipients of ATYP Holiday Workshop Scholarships. Running every school holidays in locations across Sydney, these week long and masterclass programs include Short Film Making, Monologues and Scene Work, Voice and Accents, Comedy Masterclass, Stage Acting Essentials and Screen Acting.
Captivate and the ATYP are committed to working hand in hand in bringing exciting and challenging drama opportunities to students across Catholic Education Diocese of Parramatta.