New Parliamentary Friendship group makes Catholic Schools the focus!
29 Nov 2018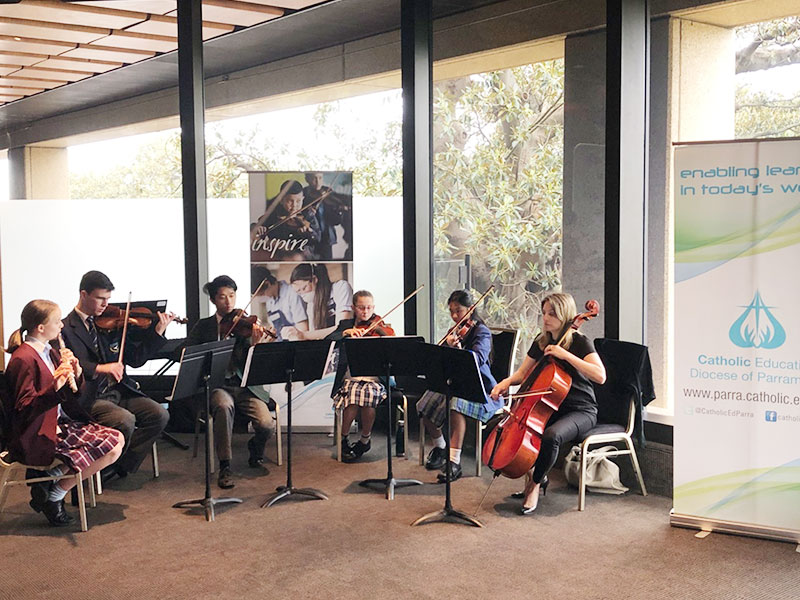 Captivate provided a musical interlude at the recent Parliamentary Friends of Catholic Schools launch at NSW Parliament House
PARLIAMENTARY Friends of Catholic Schools was recently launched at NSW Parliament House.
More than 150 NSW Members of Parliament and Catholic leaders including Diocese of Parramatta Bishop Most Reverend Vincent Long Van Nguyen OFM Conv DD and Catholic Education Diocese of Parramatta Executive Director Greg Whitby attended the event.
Catholic Education Diocese of Parramatta performing and creative arts program Captivate was also invited to provide a musical interlude at the launch! Led by Artistic Director David Russell and Music Teacher Francoise Marrier d'Unienville, the performance featured Nagle College student Angeline Moncada, Caroline Chisholm College student Courtney Hamilton, Bede Polding College student Samantha O'Brien, St Columba's College student James Parbery and Parramatta Marist High student Keith Lizardo.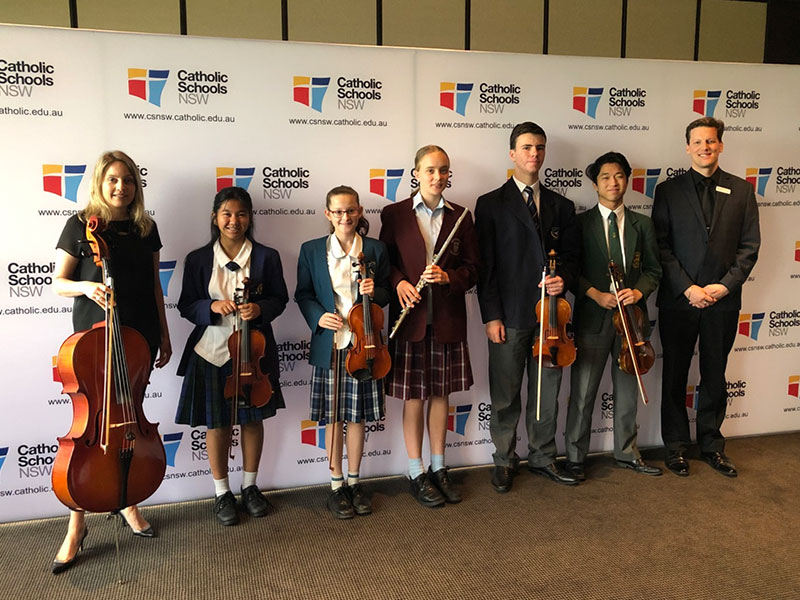 Captivate's Music teacher Francoise Marrier d"Unienville with students Angeline Moncada, Courtney Hamilton, Samantha O'Brien, James Parbery and Keith Lizardo with Artistic Director David Russell
Parliamentary friendship groups are established by Members of Parliament to support causes and share interests. The Parliamentary Friends of Catholic Schools group will be a forum for engaging with MPs about key education issues such as funding and religious freedom.
NSW Premier Gladys Berejiklian and NSW Opposition Leader Michael Daley gave warm and heartfelt impromptu speeches wishing the new Friendship group well.
Archbishop Anthony Fisher OP, who also chairs the Bishops' Commission on Education, spoke about the struggles Catholic schools overcame to establish themselves in Australia and become the nation's biggest non-government educator, employer and charity.
"In NSW, we are planning for around 10,000 additional students during the next three years, 11 new schools and the expansion of 41 others; yet the NSW Government's total annual capital contribution is barely enough for one K-12 school per year," Archbishop Fisher said.
"It remains a mystery to me why the Victorian and Queensland Governments provide so much more capital funding support each year for their (fewer) non-government schools than NSW Government does; they seem to understand that if the Catholic system builds more schools, it relieves the state building or expanding as many schools itself. It is, therefore, very much in the State's interest for the Catholic system to maintain its presence... this hasn't got through in NSW," Archbishop Fisher said.

(Drummoyne MP John Sidoti, Education Minister Rob Stokes, Archbishop Anthony Fisher, Shadow Minister Jihad Dib and Fairfield MP Guy Zangari)
Ms Berejiklian said the NSW Government appreciated the contribution made by Catholic schools in educating a quarter of a million of the state's students.
"We also match that with our policies, and we also heed the advice of Your Grace in not politicising these matters because when you're talking about children's education, there is no more important priority for government," Ms Berejiklian said.
She also thanked the Friendship groups co-chairs, Drummoyne MP John Sidoti and Fairfield MP Guy Zangari.
Mr Daley said Catholic education was about aspiration and sacrifice, particularly those made by parents such as his.
"I'm standing here now as Opposition Leader because of the educational opportunities my parents gave me. They never owned a new car …. never travelled overseas until their 40th wedding anniversary …. but their four children got a first class education," Mr Daley said.
"The Catholic Church had many 'embodiments'. But I think the education system we honour today is the glory of the Catholic faith in Australia today," Mr Daley said.