Olympic Change Makers
18 Sep 2019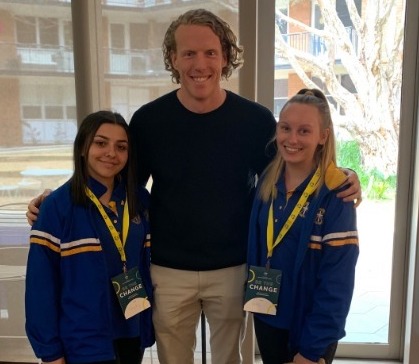 Olympic Change Makers
Earlier this term, Cassidy Regan and Hayley Vella were nominated and selected as 2019 Australian Olympic Change-Makers.
They were nominated for their leadership roles in promoting sport both in school and in their local community. As award recipients, the two girls were invited to attend an Australian Olympic state forum held at Sydney University on Tuesday 10th September. The event provided the girls with the opportunity to be completely immersed in a unique Olympic experience with the aim to further empower and inspire them as leaders both in sport and beyond.
The event was hosted by a number of Olympians and allowed the girls to liaise with over a hundred like-minded peers from all over NSW and set goals for the future. The sessions were quite practical and certainly pushed all of the participants. The keynote address was delivered by Olympic Gold Medalist Steve Hooker OAM and the entire forum was captivated by his passion and dedication to sport and continuous improvement.
It was a timely reminder of the integral role that sport/physical activity has on our mental health and wellbeing. We look forward to seeing what the girls can bring back to Nagle from this fantastic day. Congratulations to Cassidy and Hayley on being recognised for their ongoing roles in sport.