Student reflections on the National Art School HSC Intensive Course
28 Oct 2019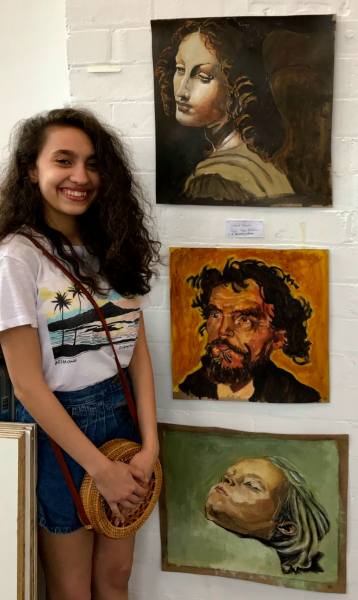 Year 11 Visual Arts students, Jasmine Stanley Dawson, Barbara Mintzas and Marvel Gebraeel willingly and excitedly chose to take part in the HSC Intensive course at the National Art School in Sydney.
This course took place during the term 2 and 3 holidays. In this course, they embraced opportunities to participate in specialised art classes to improve on their material art making practice.
Students from all over New South Wales were able to choose which expressive form to pursue, from ceramics, sculpture, photography, printmaking, life drawing and painting.
Jasmine and Barabara chose life drawing while Marvel chose painting. Here are a few recollections from their own personal experiences.
we applied for and fortunately got accepted into, with only limited spots available!
It was to our surprise that we gained a number of improvements to our art practice of drawing nude people in real life with the help our art teacher Anthony.
It was an amazing experience getting to work with other talented art students within a totally new environment and art style.
it was very enjoyable despite the hours of travelling there but it was definitely worth it!
gestural drawings, expressive, perspective, life-size and realistic types of Life drawings which at times was challenging but fun and when good, a big compliment to the model.
We got to walk around the room and view the other individuals' drawings of which we would pick up on their improvements throughout time as well as our own.
I'm very grateful for the great opportunity at the National Art school and I definitely enjoyed exhibiting my best artworks at the group exhibition. They looked so professional!
I was able to gain spectacular skills which I will be able to employ in future artworks, especially my HSC Body of Work.
It was so amazing to be able to create artworks in an artistic environment surrounded by our peers and the spectacular mentor, Anthony, who would humorously and methodically critique our drawing technique.
I absolutely enjoyed this tiring yet exhilarating experience and am wholeheartedly grateful!