Year 8 Rap 4 Change
06 Jun 2017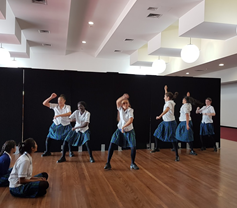 On Tuesday, the 23rd of May, 20 of the Year 8 students received the opportunity to participate in the 'Rap for Change' workshop in Blacktown City Council.
We were involved in a variety of activities on the day, including learning a hip hop routine, acting out scenarios that may happen in the future and creating a rap as a group. This experience was one to remember.
We were taught a fun hip hop routine, and performed it in front of each other which helped with confidence and made everyone feel good about themselves in the end.
They also had an exciting dance battle against each other which was a fun experience. In the learning section of the workshop, Year 8 gained further knowledge about drugs and alcohol usage, and the boundaries included in these topics.
They split up and created skits of different incidents. Lastly, they learnt about the process of making their own raps, and even managed to rap it, with help of course!
Overall, this was an incredible workshop that hopefully we will get to participate in next year. This day not only helped us learn a lot but everyone had a really good day and left the workshop with a smile on their face.
A big thank you to Blacktown City Council for this day. Also, thanks to Miss McNeil who got us involved with this program and supervising us during this time.