Light Painting Workshop with Peter Solness
06 Nov 2019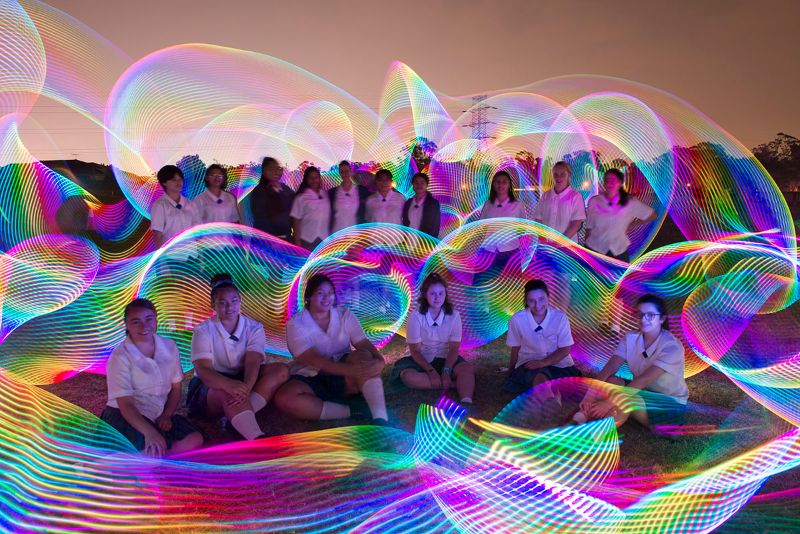 Blacktown City Parade
Year 10 Photography and Visual Arts students recently had the opportunity to work with Peter Solness, a multi award winning photographer who specialises in the photographic method of light painting.
During the workshop with Peter Solness, I learnt a whole new technique called light graffiti. Using tripods to keep our cameras still, we set our shutter speed to 20 seconds. This allowed us to "draw" on the wall with different coloured torches to take a magical photo that illuminated the darkness.
We were able to draw pictures on the walls and change the colour of objects, making them look spectacular. Whilst taking photos we realized that if you stood there for too long or used your torch too much it would create over exposure in the photos.
We used hand torches to illuminate people's faces and flowers, and a whip light that could change colours to create a light-trailing effect. An idea we were inspired by Peter to do was, to illuminate the kangaroo in the Aboriginal mural in the locker area. We used a blue torch to define the contour of the kangaroo, and it turned out great!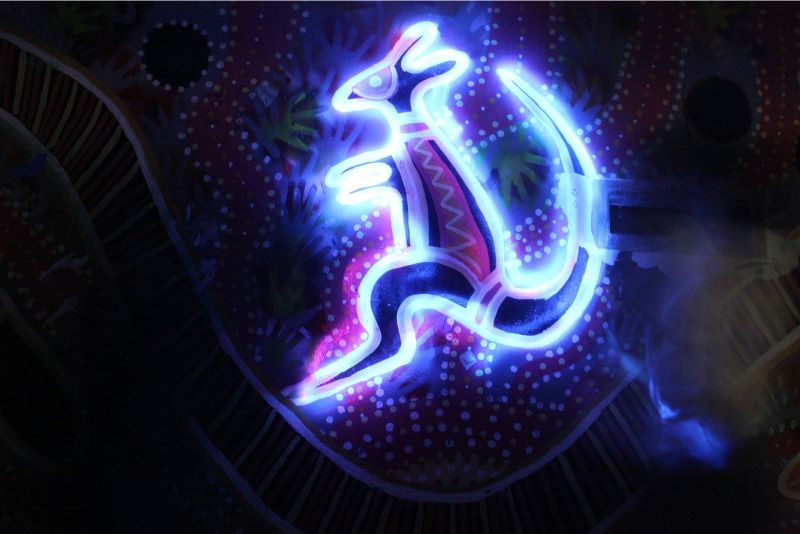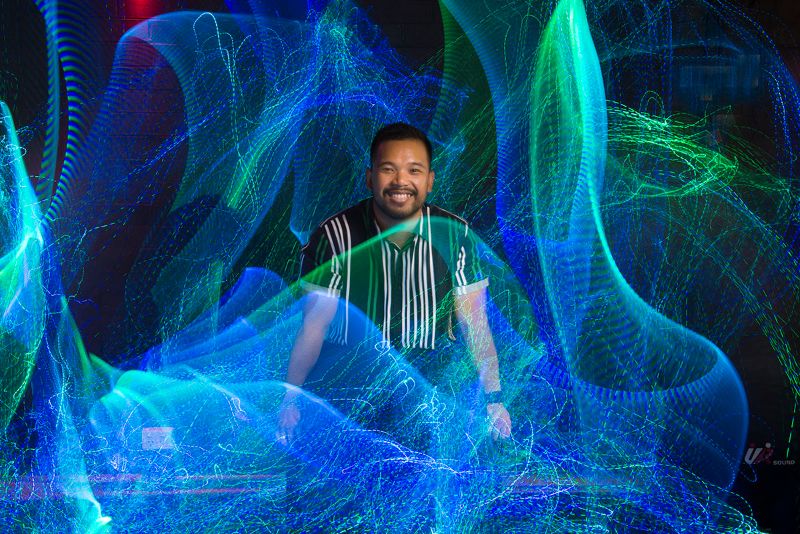 On the other hand, we tried to use the same technique for the long snake, it took 5 people but unfortunately was overexposed and could see the people in the photo, working on lighting the snake. Overall it was a great experience and we took away a lot of knowledge we can now use in our future practice. Emma Depares, Year 10.
I learnt many skills from Peter Solness and had many good experiences, some of which will definitely contribute to my growth as a photographer, including light painting and a new perspective. He showed us the art of photography without the sun, which is used by a large majority of photographers, in fact light is arguably the main factor of a 'good photo'.
By teaching us to control what the camera sees by manipulating the light, the new perspective has brought a whole new world into photography for me. Before the incursion I thought that taking photos at night was a bit far fetched as I could never get my subject clear enough. I know realise that we can make our own light and how to use long exposure on the camera to create some epic pieces of art.
When we worked collaboratively as a group and found ideas that we all liked, I found that the pieces turned out really well. So from this, I've learnt that this can be done with other people and alone. During the night I also learnt how to set the camera up on the tripod properly, which I did not know how to before. I will definitely find myself using that skill more often. Pettula Elder, Year 10.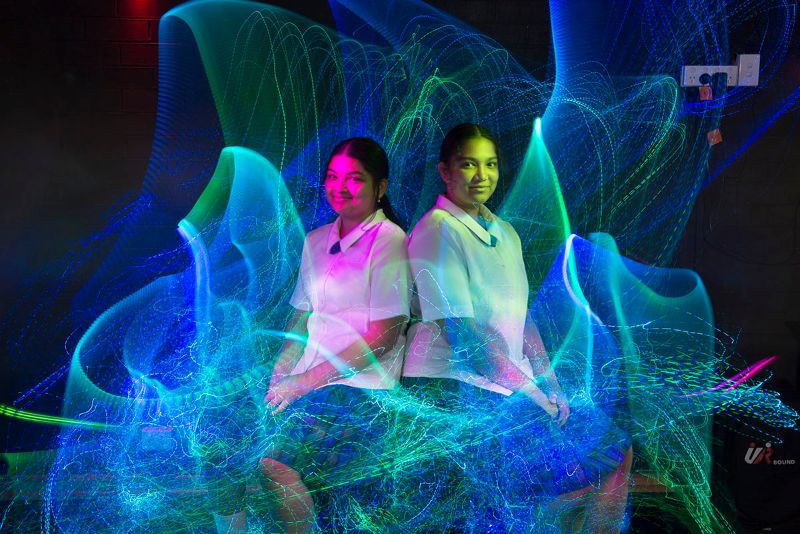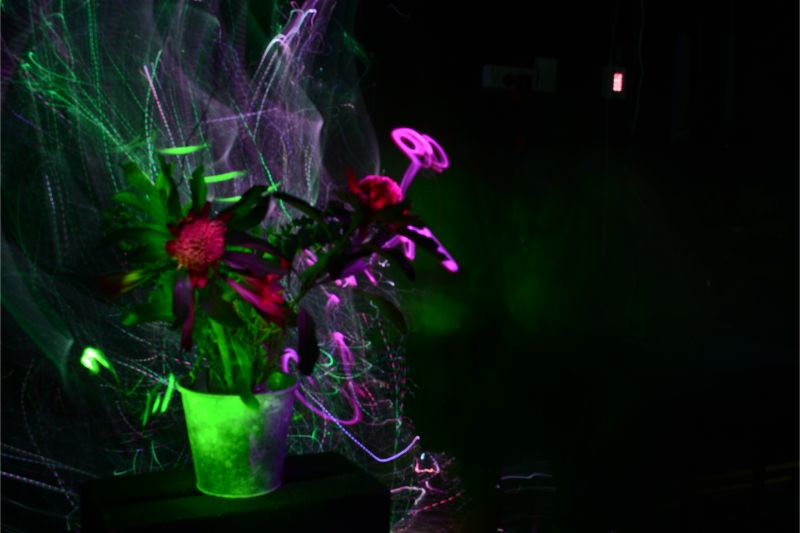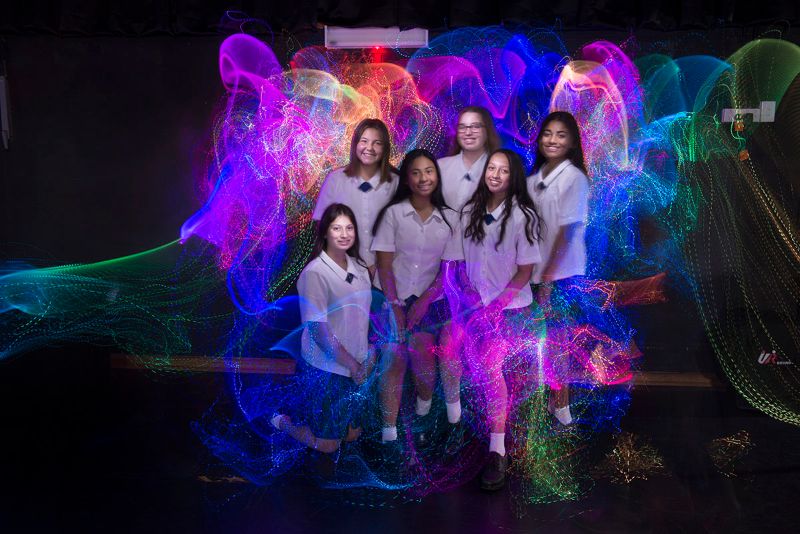 During the workshop with Peter Solness, I learnt how to use the long exposure settings on the camera to do light painting photography. First, we were given time indoors to work on still life with flowers and we used torches to light them up with different colours and create patterns on the background.
Later, we went up to the oval and used a range of lights to take photos as a group and most of these turned out really well. From this experience, I learnt new photographic techniques as well as different ways to use the camera settings. Natasha Kahn, Year 10.
Peter prepared a presentation of his photographic practice that captured the contrast between raw images in sunlight or sole shadows from the night, and the photographs that illuminate the image's subject at night, when he utilises light painting.
He revealed that when the camera's settings are altered, he would have more time to illustrate with his flashlights and additional light paraphernalia, thanks to the adapted shutter speed and aperture settings. This would mean the camera would be slowed down and become sensitive to the light radiating from the dark environment without detecting the person's figure. Moira Escuadro, Year 10.